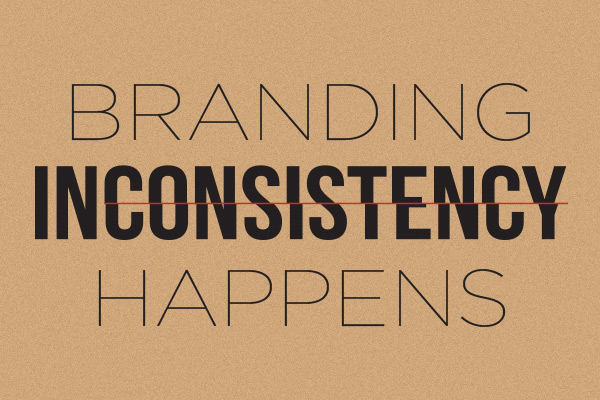 Brand Therapy for Inconsistent Branding
According to my research over 1500 articles were posted within the last year alone about the need for consistent branding.  And yet it happens, your realize your company's branding has different styles and creative directions. It happens primarily to small and mid-size businesses. In this post we'll talk about why it happens and how to prevent future inconsistent branding.

It's going to be very rare for a name brand to have this issue. Why is that? The main reason is because they know how much they have to lose through inconsistency. Smaller businesses may think they have less to lose, but that's a losing mentality. And mid-size businesses really have no excuse, because the main branding aim is to edge closer and closer to name brand recognition. But put your brand in the hands of those that don't know how to hold it – and things can, will, and do go awry.
How Does Branding Become Inconsistent?
Let's play a little Family Feud. Why does branding become inconsistent? The survey says!:
Your style guide only applied to your logo and colors. This didn't prevent all kinds of inconsistencies in your marketing materials.
It never occurred to you that you could have a style guide that could apply to your print marketing materials, website, and even social media marketing.
You love your designer but gave him/her/them piecemeal materials to design over the past few years and didn't ask for or have budget for a brand vision to be developed.
You hired several different designers over the past few years, so each piece they designed looks good, but each one has a different creative direction.
Different managers and executives hire their own designers to design something without a central person coordinating all design jobs to make sure they adhere to brand consistency.
One or all of these may apply to your business. The main perpetrator of brand inconsistency is human nature. And expediency coupled with human nature is another reason why brands drift off course.
Our Branding Is Inconsistent, Now What Do We Do?
It can remind one of the great Farmer's Insurance commercials. Is your brand covered for mishandling of colors, typography, and layout design? You really aren't covered for that. You will eventually look amateurish to any pair of eyes that examine your branding. Business is a tough business. Developing and maintaining consistency for your brand is critical for positioning yourself in the marketplace.
Get yourself a brand insurance policy. Every company should establish Brand Standards Guidelines. This is your insurance policy against amateurish brand inconsistency. It should contain instructions on how to use all your brand elements: name, logo, tagline, typeface, type styles, textures, and color palettes. This is the minimum. If it all possible, have your designer develop a "brandscape" so that your design guide can also cover layout preferences. What is a brandscape? It contains treatments of branding instances such as brochure cover, direct mail, trade show, email blast headers, and on an on. They are treatments – not final creative. They contain the basic structure to keep a brand on track.
The Thumbnail Technique
You can ask your designer to make thumbnails of your branding, so they can be viewed on one sheet (one big PDF). It's important to have the opportunity to see the entire brand at once. Thumbnail views are a great way to get a brand overview. Another option is for you to gather your collateral as PDFs and view them as thumbnails. If you have a large computer monitor – so much the better. To be able to assess your branding in one eye-full will instantly reveal your brand consistencies and inconsistencies.
Communicate Your Way to Consistency
These steps are vital in keeping a consistent look and uniform messaging throughout your company. The other part of brand insurance policy is more or less free – it's called communication. Have meetings about your materials and talk about how you can keep new projects consistent. It doesn't mean at all that creativity is curtailed. There is plenty of room for creativity within a consistent model.
The North Star Technique
At the very least, have a few pieces of marketing collateral that are "right" and use them as examples. One company that I think does a fantastic job is Caterpillar (CAT). We could say Apple – but honestly very few companies have the same kind of glamour and cult attributes that make that applicable. CAT has something for everybody. Their colors, the way they approach layout design and typography, while leaving room for creativity is fantastic.
Find your company's branding North Star, if you feel lost, use them to guide you to more consistent usage. And make brand standards to extend beyond logo usage.
Time is Your Ally
Take the time needed to be consistent with your branding and sleep well each night knowing that brand insurance policy has you covered.
RESOURCES FOR FURTHER READING:
50 Meticulous Style Guides Every Startup Should See Before Launching Style guide examples
Create Brand Consistency for All Channels: 7 Strategies for Building a Brand Standards Website Branding Consistency Strategies