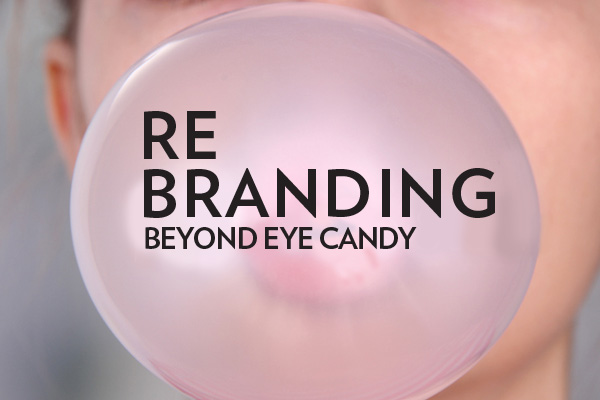 Rebranding – Beyond The Eye Candy
If your company is considering rebranding, this blog post will give you a comprehensive and easy to understand guide through the process. Many small and mid-size companies tend to use rebranding and brand refresh as interchangeable terms, but there are significant differences between the two. Technically, rebranding represents more of a complete reengineering of the brand. A brand refresh is more surface-oriented, focused on how the brand looks and communicates. The main difference is that rebranding also involves analyzing your company's DNA, core market position, and values. This blog post will give you the information you need if you are planning a brand refresh or rebrand.


1. Rebranding QuickStart Overview
Something brought you to this moment of considering a rebrand or a brand refresh.  Before we get into our detailed tips, here is an essential overview.
You'll want to first answer the very simple question: "what brought us to this point of considering rebranding?"
Develop a rough plan of action and strategy for rebranding your business that answers that initial question.
A rebranding plan should begin by setting goals of what you want to achieve, so jot down your goals.
Review your initial mission statement and positioning to see if it also needs to be updated.
Study your competition and make notes about their branding by noting strength's and weaknesses.
Make a list of ALL the collateral that will need to be updated in your rebranding
Based on your notes from 1-6, prepare summary notes that could be easily understood by your marketing team and/or the design firm you hire.
Make a rough budget
2. Why Companies Consider Rebranding
Your company's aspirational goals have dramatically shifted
The original branding no longer looks relevant
Your positioning has changed
You are planning a major expansion
Your competitor's branding far exceeds your own
3. Trendy vs. Timeless
Brands need to be refreshed to stay relevant, you will need to think carefully about what will make for a lasting rebrand that follows current trends, but will not go out of vogue in a year. Like your initial rebranding, you want to attempt to achieve a qualities that can be timeless  and on target for your goals.
4. Logo BOTOX or Invasive Surgery?
Considering a little BOTOX for your logo rather than invasive surgery? In all likelihood you can expect that your tweaked logo will meet with little fanfare from your client base. Companies typically entertain small changes because they are nostalgic about history, afraid of big changes, there is internal corporate resistance, or if you are lucky because your logo is still close to relevancy and it just needs a touch of modernization. You'll need to assess the risk/reward. The test will be to weigh your logo against your core values, the current health of your business, and your company's future direction.
Allowing for big changes to your logo can be an informative and rewarding exercise. You'll get in touch with your core values once again and step outside the daily focus of your job requirements. Obviously the more well-known your brand is (even if you are a small business) the more consideration you should give to changing your logo. More dramatic changes to your logo and/or branding colors are often tied to larger internal company initiatives, i.e., expansion, restructuring, major repositioning. These are "big marketing" catch phrases, but from the small family-owned business to large corporations – the same rules apply.
5. The Brandscape
Brandscapes = branding + landscape. In this case we are referring to all the visual collateral that will need to be updated after the logo. It's very helpful to see the entire brand as thumbnails when viewing the brandscape. Why? There is no substitute for viewing the entire brand in one eye-full: the logo, stationary, brochures, and even web design. This will allow you to pick up on the new brand consistencies as a rebranding suite, rather than exclusively analyzing individual pieces of collateral.
6. Believing in Your Rebranding is Crucial
Believing in your rebranding is crucial. Internal perception of your rebranding must be authentic. If there is internal excitement about your rebranding, it will become infectious. A rebrand has the power to reinvigorate the sales force, marketing efforts, and company esprit to corps.
Client perception of your rebranding is also crucial. It is not generally advisable to ask your clients' advise on designs or new tag lines. However, it is healthy to get feedback from individuals outside your office. In the end, if you like your design team – trust your design team.
7. Deciding on A Design Firm
When deciding on a design firm or designer for your branding, look for a company that has a track record of achieving success. If a company doesn't have experience with your niche, that is not necessarily a negative, as long as they are good students of your market segment. They may offer new ideas rather look to re-hash ideas they've used before. You'll have to weigh prior experience to the potential for fresh ideas.
If developed properly, a rebranding can celebrate your company, unite your employees, and increase profits.
Common Rebranding Mistakes to Avoid
1. The higher they climb, the farther they fall. Pepsi, The Olympics, and Yahoo! have all been hit hard by negative rebranding feedback. This is extremely rare for smaller businesses, which oddly enough, do a better job from A to Z than many large corporations. Two pre-existing conditions that doom the rebranding process are 1) Not trusting the designers and instead designing by committee and 2) Having a leading executive that thinks he/she knows more than the creatives.
2. A mistake you will want to avoid is thinking that the process will be easy. Maybe you are handy and you buy a book about building a deck and buy good looking supplies from Home Depot and put it all together and think you are genius and can do anything. Wrong. A rebrand starts like every other creative process with nothing. There are no directions. There are no lovely supplies to put together. Your creative team will have the ambitious challenge of turning a blank piece of paper into the cornerstone of your business for years to come.
3. After the rebranding process is complete, don't make the mistake of thinking that you are done. Think ahead as to how best to roll-out and introduce the new branding. This is a newsworthy event in your company's timeline. This is an opportunity to connect with your customer base and make inspirational speeches to your employees.