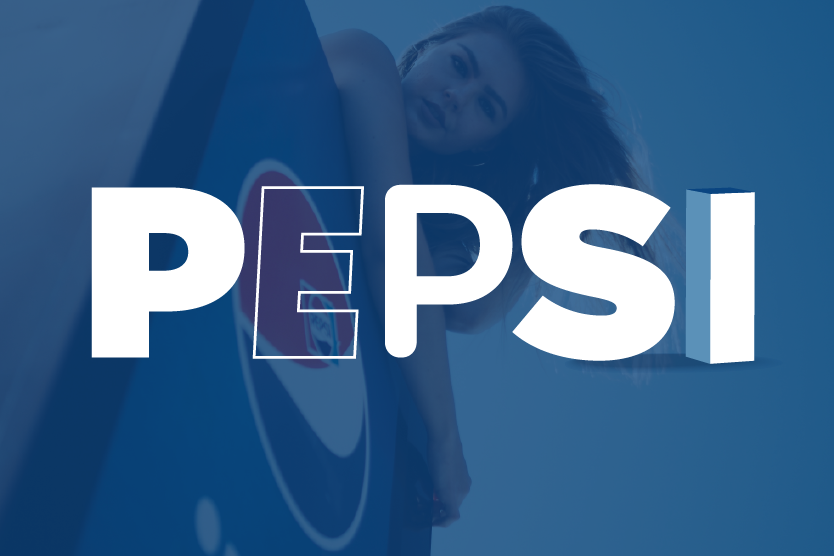 Typography's Impact on Messaging Strategies.
When Pepsi is the topic, the war with Coke is the inevitable next thought, so let's get that rivalry out of the mix right now. Whose side am I on? I'm on typography's side. I'm on strategic messaging's side. My positive intent is to use Pepsi as a case study–exploring the importance of typography in messaging and brand strategy. Read full neutrality disclaimer at the bottom of this blog post.
Typography Tied to Messaging.
I'm not a typography nerd–I'm way beyond the nerd status–I passed nerd status and never looked back. Font usage/typography is not, or at least should not be, siloed from strategic brand strategy and brand platforms. Typography is a unifying force for corporations and has an inextricable relationship to brand messaging.

Let's use filmmaking as a vehicle to an analogy. Messaging is critical to brand success, duh. If you can't express, in words, who you are and your value to people – you won't succeed. Of course, easier said than done. Giant global brands struggle with this and that's why great ad agency partners are needed.  If messaging was the film script, and absent of all other visuals except typography, the font itself would be the actor bringing the script to life. Here's an overt example to drive home the point. "Um, line please."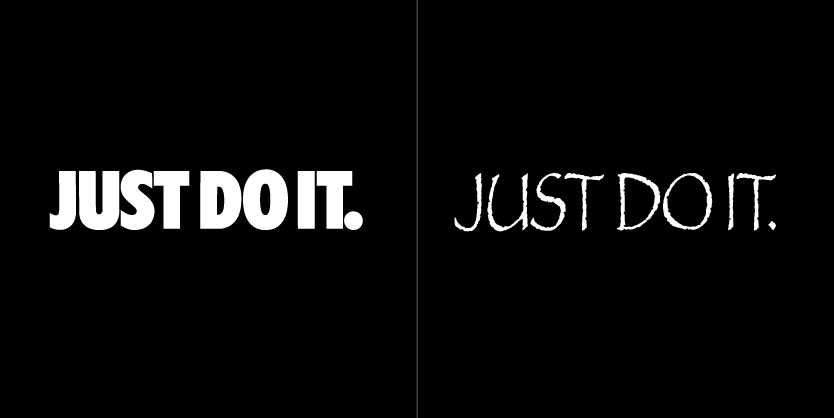 You're saying, "ok, I get it, but what's all the fuss about Pepsi?" In terms of typography, Pepsi's use of typography is not unified and it is diluting their brand. Unnecessarily.  
For example, four companies who really know what they are doing with typography across multiple channels:
Verizon

Samsung

Spotify

Nike
These four companies are great models for consistent use of typography that in turn strengthens their messaging. And in the case of Spotify and Nike–their innovative and culture-leading use of typography draws the audience in and engages. It's part of the strength of their brand and not a small part. Not a small part at all. Check out Gretel's "Nike By You" campaign, if you can.  
With the best of intentions, let's have a look at Pepsi. 
Print and digital.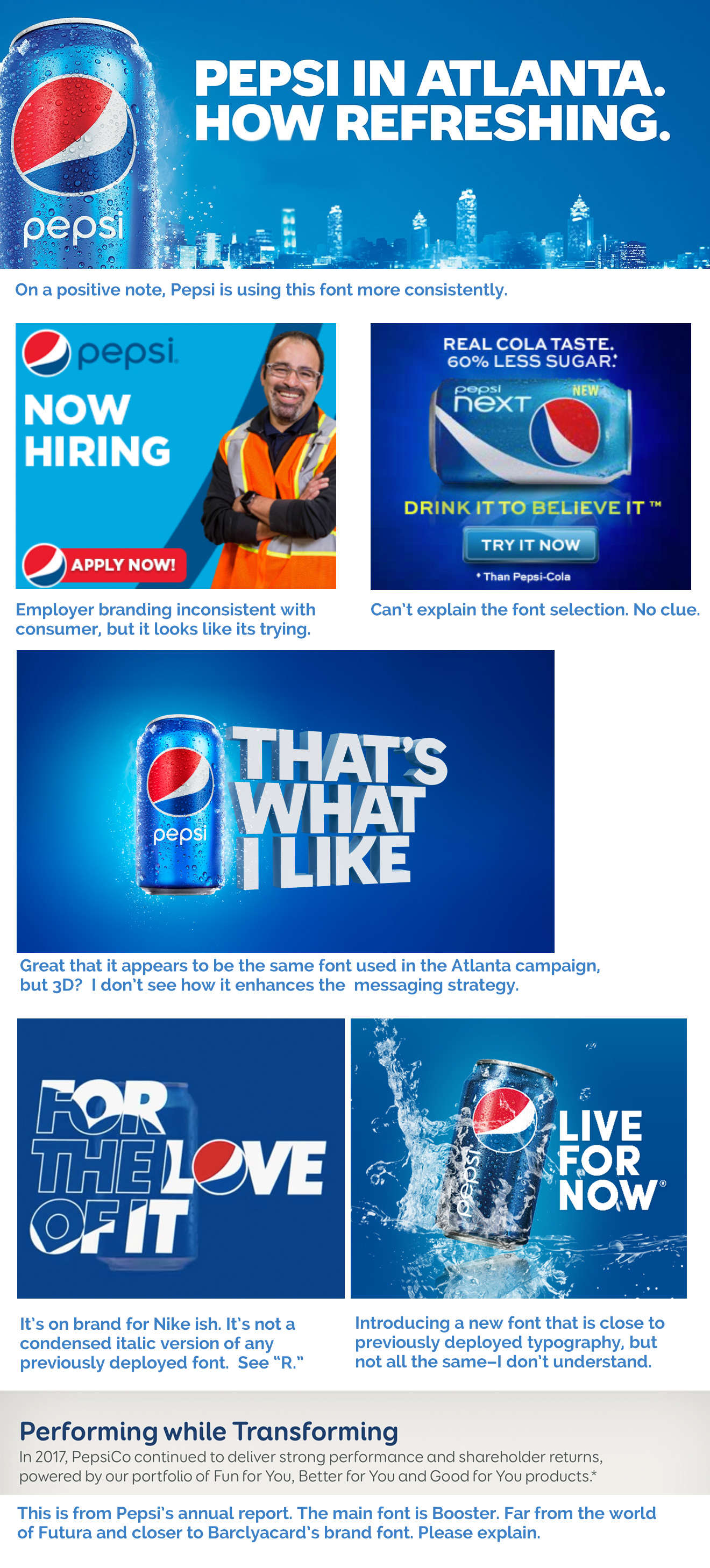 Web properties.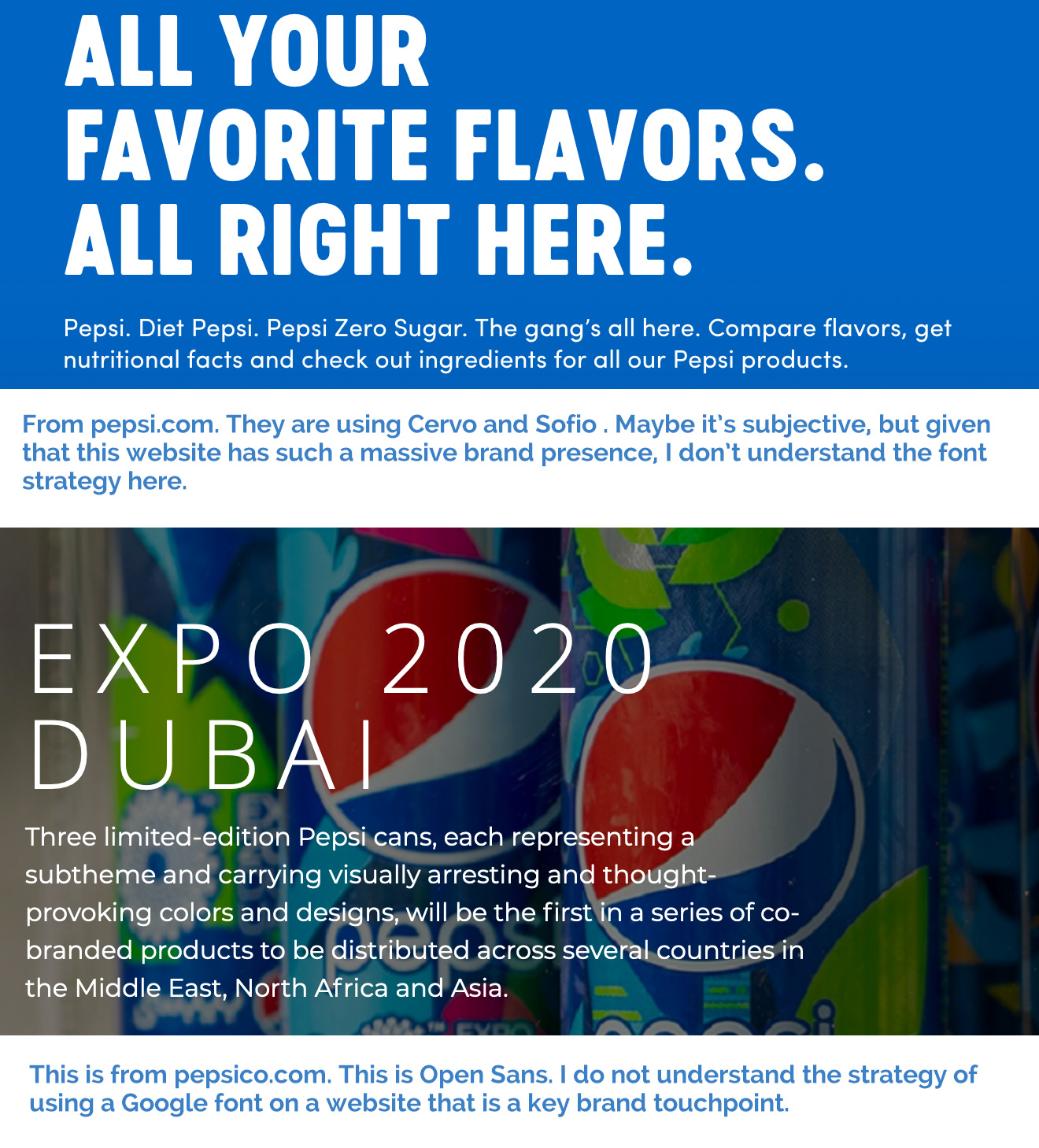 It does't make any sense to me that a company of Pepsi's size and stature would lack a unified typography vision. I think they can do better and I'd love to see what that looks like.
I'm sure that you get the picture. Typography and messaging are partners in an overall brand strategy. I don't drink messaging often, but when I do, I prefer that it's consistent and not diluted.
NEUTRALITY DISCLAIMER: I respect Pepsi's brand strategy to have a presence at concert and sport events; that's the only time I buy Pepsi Cola–otherwise I drink Coke. However, it is widely known that I drink Gatorade, owned by Pepsi, virtually every day. "Win from Within." I say yes and thank you to TBWA\CHIAT\DAY for creating that amazing line for them. Also – no small point – I've done project work for the good people of Pepsi Bottling.